Firebug team released Firebug 1.12.3. Another maintenance release fixing a few minor issues.
Firebug 1.12.3b1 has also been released to update users on AMO beta channel. This version is exactly the same as 1.12.3

Firebug 1.12.3 is compatible with Firefox 23 – 26
Firebug 1.12.3 fixes 4 issues.
Some highlights from this release
There is a platform bug that slows down Firefox tab switching and Firebug activation. This bug has effect only if the Script panel is enabled. Since we can't fix this problem Firebug is displaying a warning to notify users. The problem will be fixed in the next major Firebug release (Firebug will be using different debugging engine, see issue 6821 for more details).
The message is displayed on disabled Script panel and also in the Console panel.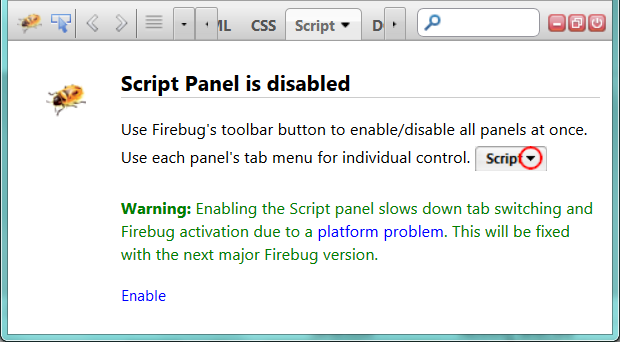 This version also fixes one compatibility problem with FirePHP extension (issue 6803).

Please post feedback in the newsgroup, thanks.
Jan 'Honza' Odvarko