getfirebug.com has Firebug Lite 1.4! This release has been also uploaded on the Chrome Web Store and on the Firebug Lite Beta for Google Chrome channel.
Firebug Lite 1.4 fixes 10 reported issues, a couple of internal issues, and comes with some internal refactoring that will soften our future merge with Firebug code base.
Two new features were included in this version. Firebug Lite now shows the line number of CSS rules in the Style Panel, thanks to Sergeche's Simple CSS Parser. Also, the way Firebug Lite stores its preferences were improved, thanks to the Marcuswestin's Store library. This means that now Firebug Lite will remember its position/size, last selected Panel, last commands executed in the Command Line, and a couple of other internal states.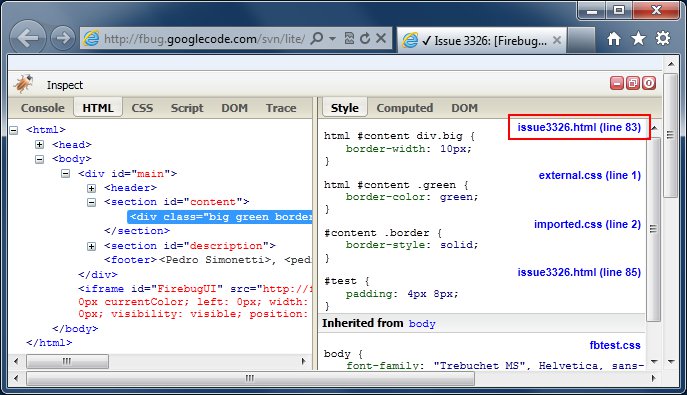 Please note that the CSS rule's line number feature requires fetching all stylesheet sources, which will add a little overhead to the application. For this reason a new option "Disable Resource Fetching" was added for those who don't want that extra overhead and/or additional HTTP requests. Also please note that this feature won't work in all scenarios yet, so if you spot a bug please report it in our issue tracker providing a test case to reproduce the problem.

Last but not least, Firebug Lite is finally using automated unit tests so hopefully old bugs won't reappear when new features are introduced. Note that the Issue 2977 will fail in this test runner because googlecode.com does not allow the php file required for that test. We'll probably move the test runner to getfirebug.com in the future, but we need to adjust some bits of the runner's code for that to work properly. Also note that Issue 3262 and Issue 3326 are known to fail in IE versions older than 9 because they use some HTML5 elements in the test case, and IE doesn't like it. We could incorporate the HTML5 Shiv code in the test runner in the future, so that doesn't happen.
Please post feedback in the newsgroup, thanks!
Pedro Simonetti Garcia.