A lot of questions on Firebug newsgroup have been related to Firebug icon recently (available on Firefox status bar in the past). This icon is quite important piece of Firebug UI since it represents Firebug entry point and it's also the only thing visible after Firebug is installed. Since the Firefox status-bar has been abandoned in Firefox 4, this icon has been moved to Firefox toolbar (since Firebug 1.7).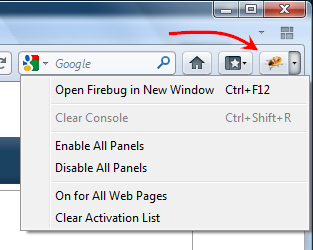 This UI shift was also the result of a feedback we have got last year.
Anyway, if you prefer having the icon at the bottom (e.g. because it's closer to the actual Firebug UI), you can customize your Firefox toolbars and move the existing Firebug (toolbar) button on Add-on bar.
Here is what you need to do to start toolbar customization.
In order to open Customize Toolbar dialog, right click on Firefox tab-bar area and pick Customize…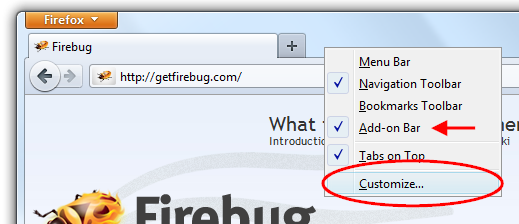 Don't forget to also check the Add-on Bar menu item so, the Add-on Bar is displayed and you can drop the button on it.
Since the button is on the toolbar already, you won't see it in the Customize Toolbar dialog. Just drag the button from the toolbar and drop it on the Add-on bar and you are done!
If you still insist to have the good old Firebug icon available – set the following preference to true: extensions.firebug.showStatusIcon
Please post feedback in the newsgroup, thanks!
Jan Honza Odvarko