As John J. Barton told in a previous post, I'm working now on Firebug Lite. Today I'm bringing a good news: Firebug Lite 1.3.1 is out!
Compared to Firebug 1.3.0, the 1.3.1 version is more stable, faster and has more cool features. All known defects were fixed (with the exception of one which was partially fixed), considerable performances improvements were made, and the two most popular Firebug Lite features (CSS editing and XHR inspection) received a lot of improvements.
Regarding CSS editing we could highlight: more accurate auto-completions, able to edit element styles via content menu (right-click the CSS/Style Panels), more accurate calculation of specificity of CSS rules, use of double-click to add a new CSS rule (instead of mouse-down as it was being handled in 1.3.0). Regarding the XHR inspection we could highlight: a few important bugs were fixed that could potentially break web applications using XHR when Firebug Lite was enabled, and last but not least it was added the cool JSON, XML and HTML viewers which means that now you can easily analyze JSON, XML and HTML data being sent (request) or returned (response) via XHR. Here's the JSON viewer in action: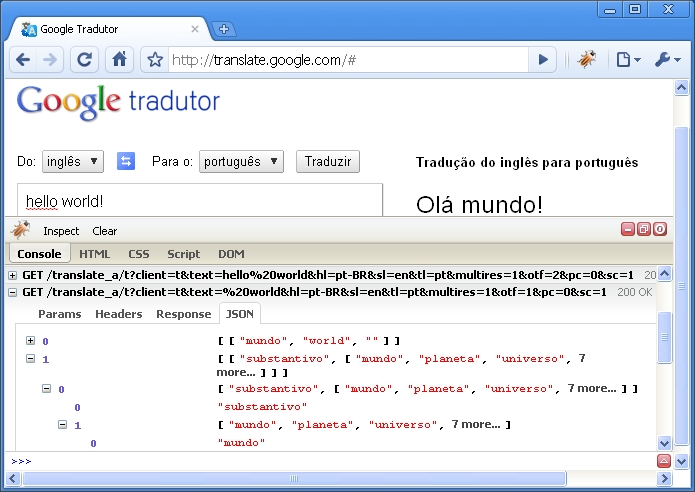 Give it a try! Go to http://getfirebug.com/firebuglite#Install and choose your favorite flavor of Firebug Lite. If you don't like adventures, pick the stable channel. If you are the curious geek kind and wanna debug Firebug Lite, use the debug channel. If you are avant-guard and like brand new stuff, the beta channel is your choice. But if you are a wild adventurer and fear no bugs and raw art, I dare you use the developer channel.
You are a Chrome lover? There are some special flavors for you too! You probably already heard about the Firebug Lite for Google Chrome extension, which is basically the "stable channel with sugar". But now we have also a "beta channel with sugar": Firebug Lite Beta for Google Chrome.
Here is the list of 13 issues fixed in 1.3.1:
Issue 3272: Install Google Chrome extension results in a 404 error
Issue 3384: Just two inadvertent globals across the Firebug Lite files
Issue 3318: Firebug Lite dies if you hide the UI when the large command line is open
Issue 3181: Firebug Lite Missing XHR methods/properties
Issue 3262: CSS specificity is not being calculated properly.
Issue 3038: Empty (null) styles when adding CSS styles in Firebug Lite
Issue 3224: Firebug Lite shows error when trying to read some external stylesheets
Issue 3181: Missing XHR methods/properties
Issue 2958: Unable to add CSS to an element that has no style rules
Issue 3165: Styling problem with nested expandable groups
Issue 3178: Bookmarklet does not support XML+XSLT documents
Issue 3118: Long lines in XHR response
Issue 2981: Switching from CSS tab and back causes an error
If you want a more detailed list of changes check our changelog.
Pedro Simonetti