Wednesday, April 29th, 2009
Firebug 1.4.0a23 is out.  It includes couple of additions to the status bar icon context menu.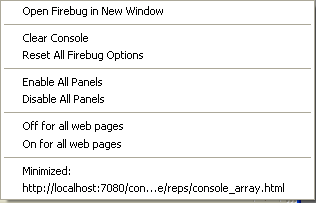 Here's the full line up now:
Open Firebug in New Window. aka 'detach'. as before.
Clear Console. Well it's been there since 1.o…
Reset All Firebug Options. Changes all of the Firebug options back to their default values. We use this in testing Firebug, so it may help you if something odd is happening. BTW, no confirm on this one. I'd like to have a confirm window that listed all of the options. Someday.
Enable All Panels. Enables Console, Script, and Net panels. Extensions could use it too. Does not reload the page.
Disable All Panels. opposite of enable.
Off for all web pages. Closes all Firebug instances, erases all memory of which pages had Firebug open in the past. Also used for testing; also wish it had a confirm.
On for all web pages. Opens Firebug on all pages; does not use the page-annotation for remembering which pages are open.
Minimized: the list of pages with Firebug active but minimized. Clicking on an entry will select that tab and restore Firebug into the browser.

To go with the new Context menu is a new Tooltip. As before the Firebug version is available here. Also the activation status of the panels. If all three panels are off, the Firebug icon should be gray. Otherwise it should be orange (as before). Then the number of detached (none in this case), minimized, and total Firebug web pages are shown. The number of minimized pages should match the list in the context menu.
Please post follow-ups to the newsgroup.
jjb